Held on April 1 in Lugano
Italian Switzerland, A meeting among EoC friends and entrepreneurs
by Marco and Prisca Bianchi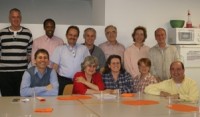 On April 1, twelve participants, all of whom were already familiar with the EoC project, came together in Lugano for one of their customary meetings. As always, the occasion comprised of a shared dinner, a moment of reflection and updates. Luigino Bruni's opening speech at the recent EoC PanAfrican School in Nairobi, "Map of a new world an a longing for the sea," served as the meeting's reflection material.
The participants freely exchanged ideas, experiences and impressions in an atmosphere of mutual respect and openness that characterize such meetings.
Luca Crivelli
's valuable presence allowed them to better understand and appreciate the professional experiences (some of which happened outside the workplace) by putting them in the EoC context.
At the end of the meeting, remembering Luigino's metaphor of Christopher Columbus in the video, the participants pose a question: "Are we ready to leave with the map given to us by Chiara's charism in 1991? How much longing for the sea do we have in our hearts? Are we ready to face the risks and challenges of the open sea? Do we truly believe that the map is reliable?
Here are some comments: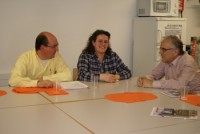 The video has triggered an examination of conscience on my part. It has forced me to look into my relationships both in the workplace and in the family. They need to be renewed and it's up to me to do this. (an entrepreneur)
Along with other driving schools and two motorbike shops, we organized a day to teach young people the risks of driving, free of charge. We are competitors but we decided to work together for a good cause. (another entrepreneur)
I greatly admire and I'm fascinated by the EoC. However, my experiences in Burundi tell me that it is important not to allow the EoC to fall into "uncertain" hands. It should be entrusted to people who are trained and ready to resist personal temptations. (an employee)

The evening was concluded discussing the possibility of an EoC school in Ticino for young entrepreneurs and/or students.
The next meeting is set for May where they will follow the live streaming of the upcoming 20th anniversary celebration of the EoC to be held in in Brazil.