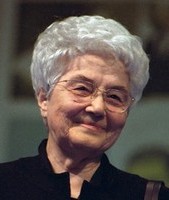 On March 14, 2008 Chiara Lubich left us. She was 88 years old.
Three years after your departure for Heaven,
we thank you Chiara for the gift of the EoC
In these days, many commemorate Chiara'ss third death anniversary in different parts of the world. Many of them are related to the Economy of Communion. Among them are the next conventions which will be held in Parma and Osimo on March 19. Today Luigino Bruni says, "Thank you Chiara. After three years, I still find it hard to beleive that she is no longer with us. Great people live in the lives of those whom they have loved."