Last February 19, in Mariapolis Center Luminosa, in Las Matas
Madrid, an evening on the Economy of Communion
By Ernesto Cubero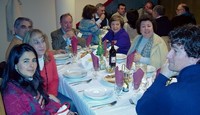 Twenty-six people came, including eight who came for the first time to know more about the Economy of the Communion. During the four-hour meeting, a great interest was shown in what the EoC can offer during this time of deep economic and moral crisis.
What particularly touched everyone while listening to Luigino Bruni's talk on "gift and forgiveness", recorded during July 2010 in Santa Cruz de la Sierra, was the original vision of the fight between Jacob and the Angel as an image of communion. Unity arises from a wound that is loved and made to become communion. "If you look at the life of the EoC businesses, fraternity is truly lived, without hiding behind a hierarchy, you expose yourself to the other…you suffer more wounds, but you receive more blessings", said Luigino in this talk.
"This is a very, very courageous proposal", said one of the entrepreneurs present. A long dialogue on this topic continued even through dinner, with which the evening concluded.
Here are a few comments of those present:
Two entrepreneurs that have adhered to the EoC for many years: "We're amazed by this new vision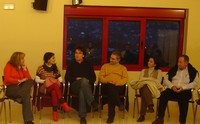 that the EoC presents us with, on the wounds and blessings of our entrepreneurial life…"
An entrepreneur present for the first time: "…I didn't expect this. I'm happy. I would have wanted a meeting that lasted for four days to be able to live in this peace and this harmony and fully understand what the EoC means…"
An employee in an international firm: "…it's very difficult that this beautiful lifestyle bring tangible fruits when it's lived alone at work. You need to be at least two living in this way to bring about a significant change in your workplace…"
Another entrepreneur present for the first time: "…I understood that being and EoC entrepreneur means choosing a new lifestyle…"
Finally, an impression that was sent to us the next day: "…thank you for the last night. The meeting was very beautiful, as was the dinner in family. If gives us hope to hear and share the experiences and see that the Economy of Communion continues to grow."