February 12 and 13 , in the Mariapolis in Arny, was the
School of Formation for French EoC entrepreneurs
Twenty-nine people, 24 businesses represented and many youth (even a group of children), all together to live a weekend of formation and communion.
By Chantal and José Grevin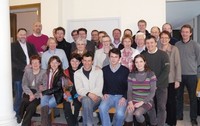 The school opened with a moment focused on "operating a business with the Hidden Shareholder", which led to a deep exchange concentrated on the life of the business, with the continual effort to be faithful to what God suggests day by day.
Concrete life experiences showed that when you "dare" to give, going ahead with trust and trying to keep an attitude of love, providence manifests itself. Another unmistakable sign of providence is the peace that one feels inside with the moment comes to make difficult decisions.
Concretely, there was much discussion about how to give witness to the EoC within the business. We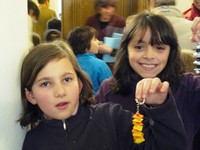 agreed that when new people are hired, it's useful to explain the values of the business to prospective employees, as this makes things easier later. Of course, this is done without excluding people who have different perspectives. Another worry shared by many is the position given to those in need in the business. The integration of who is more fragile unites other employees, who find more meaning in their own work and live it with more joy.
Last year, when Maria Voce, president of the Focolare Movement, visited Arny, she launched a proposal to build an EoC business park in France. This invitation is still very present among us and there are plans in the near future to bring about at least a virtual business park for now, using the means that technology provides today.
Sunday morning was dedicated to working groups to prepare for the events linked to the 20th anniversary of the EoC in France. Four regional programs are planned, in Aix-en-Provence, in Britain, in eastern France and in Paris. We will make a video that can be used both for the virtual business park as well as to spread the news about these events.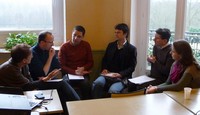 At the end of the meeting, a young entrepreneur explained to all about the opportunities offered by social networks – widely used among young people – to spread the EoC. Many realized the meager know-how that the less young (those above 35 years old!) have in using these means…but faced with this "generational gap", everyone listened attentively, which built a bridge, and together we decided to begin using what Google groups has to offer. The day ended with the general assembly of the Associazione Aurore-Edec, which noted all of these new prospects in its acts.