The Elderly, a Mine
By Isaias Hernando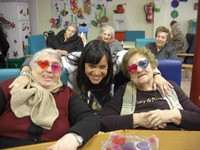 The EoC business La Miniera (The Mine) came into the limelight in the last few days for the prominence it was given when Maria Voce, President of the Focolare Movement, visited the business. From her words, "I would have come to Spain only for this," one can deduce that the two hours spent in this day center, which welcomes 50 elderly in the Sevillian city of Dos Hermanos, left her enthusiastic. We've interviewed the two founding partners, José Alonso and Elena Bravo.
Can you tell us your story in a few words? How did the idea to start this center come about?
José Alonso: The business was started in January of 2003, and from the beginning it was an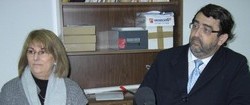 EoC business. I had always worked in large multi-national financial institutions and insurance companies, but I had lost my job shortly before then. Elena had left her work as a biologist to focus on the family and caring for the children, but when Chiara launched the EoC project in 1991, she immediately felt a very strong desire to participate. Working in multinationals, I always had the feeling that I was little more than a number with sales goals to reach. That's why I was so strongly attracted to the typical ideas of the EoC, to put the person at the center, to live communion, the culture of legality, etc. Even if we didn't have experience in the field of elderly care, we threw ourselves into building the center, and just two days before my unemployment subsidies were to run out, we found ourselves signing the contract with the region to welcome the first 25 elderly at our center.
Why did you give your business the name "La Miniera" (The Mine)?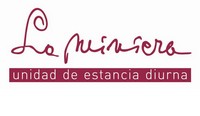 Elena Bravo: The center came about as an answer to Chiara's proposal, so we thought of asking her to name the business. Chiara suggested "The Gold Mine", refering to the value of the people to whom our work was aimed to serve: the elderly. This awareness has guided our work since the beginning. Every day, we try to work so that people, and not profits, are at the center of our work. We do all that is possible so that each person that comes into the center feels welcomed and valued, beyond their physical or mental conditions. Together with the whole team of employees, we try to offer quality service in which each one, beyond their due professionalism, works in a way that the elderly feel happy and appreciate the time spent with us.
So the elderly are the center of your business. What does that mean concretely?
J.A.: Once, one of our workers told us that two of our elderly would be better off in a residence. Even if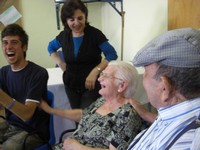 losing two places represented a real economic problem for us at that time, we said, "If we want to put the person at the center, we have to think of them before thinking of our interests", and we found a residence for them. When new elderly arrive, they are often a little afraid, as if they are receiving a punishment. But the other elderly encourage them, saying, "I was only going to come for a week, but three years have gone by, and I thank God even for the door welcomes me each day" or "when the weekend comes, I want to get through it quickly so I can come back here". Some, especially if they are aggressive or sick with Alzheimer's, find it harder to adapt. So it is very important for us that everyone sees how we treat them. That way, little by little, they end up accepting it, as in a family, with great relief to their relatives who need to be relieved as well.
Offering better quality services, living legality...doesn't this make you more vulnerable than your competitors?
J.A.: On one hand, this is true, but one the other, our "hidden shareholder" never leaves us without his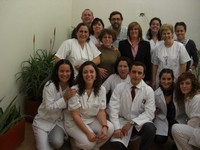 help. From the beginning, there were many people who gave us a hand since they knew how we tried to work and where we sent our profits. Office supplies, plastic ware, fabric, towels and even mannequins for the elderly to learn to dress themselves...these are only some of the many things that arrived just in the moments that we've needed them. A little while ago, we needed a machine to lift the elderly, but we didn't have money to pay for it. We decided to buy it anyways, thinking of the fatigue of our personnel and the elderly. On Friday, the supplier delivered a machine to try to see if the model suited our needs. On Sunday, we received a phone call from a collaborator: the director of a center for mental illness who knows how we work wanted to give us an electric machine she didn't need anymore, because she need a hydraulic one instead. I went to pick it up, and to my surprise, it was identical to the machine they had brought us to try out.
Is it true that "La Miniera" has also become a center to spread the EoC in the zone?
E.B.: We've been asked to share our experience many times in these years. Every month, we're asked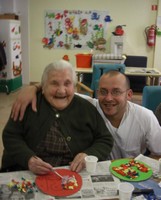 to do something like this. Last year, with the Pope's encyclical, other ecclesial movements came to us to know more about the EoC. Even our city's council came to us various times to participate in different meetings, beside many other chances to explain our way of managing a business and the EoC's principles. Lately, a good number of youth have come with their economics professors. For us, these are important moments, not only because the future of the EoC rests in the youth, but also because the youth are a precious gift for the elderly. After the last visit, these youth told us that they were touched by the joy of the elderly, by the atmosphere of family and the enthusiasm of our workers - just the things that are important for us. They found an experience of the Gospel lived-out, which allowed them to hope that things can be different and that each person can be a protagonist of this change.
What does Maria Voce's visit to your business mean to you?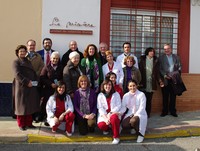 E.B.: In the 2004 international EoC convention, Chiara said that every EoC business should become "God's dwelling among men", and therefore, that reciprocal love should be the strong point of our businesses. Throughout these years, we have tried to put this into practice, as we're sharing with you. It has not always been easy. We've gone through various trials, illnesses and family and personal problems, but this reciprocal love has always helped us go ahead, sometimes doing the work of the other when necessary. The words that Maria Voce wrote in our guestbook are, "Thank you for the moving witness of reciprocal love, which is the greatest wealth of this mine, truly gold that gives fruit to God's Kingdom!" This gives us immense joy, because it is the confirmation that this is our vocation, our journey, and it gives us the strength to go ahead in this extraordinary EoC adventure, knowing that through us, Chiara's charism can continue to work in the midst of society.