It's the first time that the EoC has been presented in an African university
Economy of Communion, a new paradigm for African development
By Liliane Mugombozi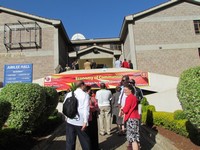 Nairobi, January 26th  - This morning, the prestigious Catholic University of Eastern Africa (CUEA), in Nairobi – Kenya, opened its doors to a much awaited 3 days International Conference on the Economy of Communion – EoC.
From the very first moment, the 300 participants full of expectations and high hopes: professors, students, university staff, and other guests, filled the "Jubilee" conference hall.
Vice chancellor Prof.
John C. MAVIIRI
officially opened the conference, by welcoming all the guests. In his remarks, he recognized the positive impact of the Focolare Movement in bringing about transformation in society. "
We at CUEA are privileged to host this international conference to reflect on the ideal of Chiara Lubic's dream, ie., the Economy of Communion now being proposed as the New Paradigm for African Development. The ideal borrowed from the example of the earliest Christian Community is contained in the fact that within the members "there was not a needy person among them" (Acts 4, 34). This is a challenge on the African continent!
"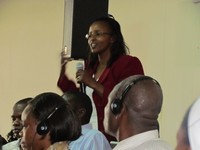 In fact, the first speaker, Dr. Aloys B. Ayako, Dean, of the Faculty of Commerce expounded on the Political and Socio-Economic Challenges facing Africa today. The second largest continent in the world is not one undifferentiated land mass but rather a mosaic or spectrum of great diversity in terms of: history, topography, resource endowments traditions. As a continent Africa has to face several challenges: democratization, political stability and peace, slow economic growth, chronic poverty etc.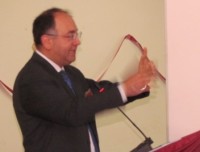 Professor Luigino Bruni presented the EoC project, its birth and development, demonstrating how the whole reality was born from a charism of unity given by Chiara Lubich in the Church. A constructive interaction followed between Mr. Bruni and the audience, reawakening in many questions and concerns about world economy today, social unbalances: starting from trade to personal, family and nations relationships.
As Professor Maviiri, had underlined: "A true African development must carry with it the spirituality of Communion, a concern for others and solidarity with the needy. This conference is great opportunity to introduce a new dimension in the curriculum of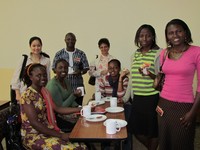 studies on economics and human development."
"The innovative ideas offered in this conference, offer high hopes in a continent where about 60 % of the people in Sub-Saharan territory still live below the poverty line. It offers great opportunity for human development", said Dr. Kiflemariam Abraham, professor at CUEA.
The conference continues until 28 January.