A decision to give
The experience of an EoC entrepreneur from the Ivory Coast
Published in NewCity Africa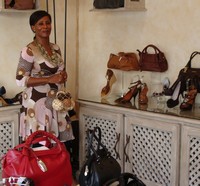 Virginie Asse lives in Abidjan, Cote d'Ivoire. She is married and is the mother of four. She runs her business following the principles of the EoC. On this page, she shares her choice "of not accumulating capital in banks" and how this option opens up an adventure before her: experiencing God's intervention in many ways.
"Sharing" and "giving" have always been a life decision for me. I was once employed, and each month I used to automatically give 10% of my salary to my church. I then decided to launch myself into the world of business. I have decided to keep this principle: to offer the 10% of my profit to help the needy. I started my own business: I go to Europe to buy some articles that I then sell in Abidjan. I make two important orders per year.
In the beginning, at the end of each order and sale (every six months), I used to sit and look into my accounts so as to understand how to take the 10% for the poor. At a certain point, I realized that I was no longer giving as I wanted and that I had started finding many excuses for not giving.
Thus, I informed my workers about my ideas that I introduced in the management policy. It consisted in this: at the end of each day, after having looked at the day's sales, we were to systematically take the 10% of the day and put it away, with the intention of helping the needy. And we did this from the 1st to the 31st of each month. Sometimes, a whole week can pass without any income but as soon as something enters, I automatically remove the corresponding sum of the 10%.
In 2007, I took part in the Economy of Communion (EoC) congress in Rome. There, I discovered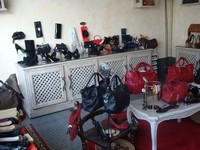 that the values that were attracting me are practiced in the EoC, and I voluntarily chose to direct my business towards the EoC policies. I continue to help the needy in my country, which is going through a difficult period of war and conflict, but I also participate in the world communion that EoC offers.
I had never had anything in return for the help I give, and I am happy this way, for I have always wanted my help to be discrete. But, I always make an experience of the intervention of God's providence through a third party, and this always comes at the right time.      For example: I must pay a supplier, and the deadline is catching up with me, but I don't have the necessary amount to pay the bills. A few days before the deadline, I make really important sales that give me the possibility to pay my suppliers at the right time.
On other  occasions, I have to travel to purchase my products. When the set date nears, I don't always have the necessary means to fund the trip. I confide my situation to God, and I continue doing my work and loving each customer that enters my shop. When the day arrives, I always have the necessary amount of money for all my expenses. This is a usual experience for me.
I can honestly say that it is not always easy, above all because I had made a choice of not accumulating capital in banks, but rather living on my day-to-day income from my business: myself, my family and the parties under my care. Now and again I have difficulties, needs in my family for instance, but these difficulties never change my policy, I always put away the 10%. By adopting the EoC principles, besides what I do, I have just opened a new store, the second, in another part of Abidjan city.
Virginie Assi – Côte d'Ivoire