L'Istituto Universitario Sophia organizza per il 28-29 maggio 2010 il SEMINARIO INTERNAZIONALE:
The Charismatic Principle in Economic and Civil Life: History, Theory and Good Practice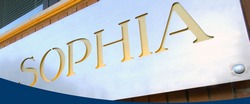 Nel  maggio 2010 l'Istituto Universitario Sophia di Loppiano (Firenze) promuoverà un seminario internazionale intitolato: "Il principio carismatico in economia e nella società civile: storia, teorie e buone pratiche".
Call for papers (termine per la presentazione: 30 gennaio 2010)
Tra gli obiettivi dell'incontro quello di trovare nuove strade nel  dialogo tra la dimensione istituzionale e carismatica applicate al contesto economico e sociale. La considerazione di base è che nella storia dell'economia, della società e della religione, la dimensione carismatica viene spesso lasciata in ombra. Per comprendere a fondo la vita sociale ed economica si propone di non analizzarla solo sotto il profilo istituzionale, ma rilevarne anche le dinamiche carismatiche.
Partecipazione:
Il seminario è indirizzato agli studiosi di varie discipline. Si richiede la presentazione di proposte di discussione degli aspetti teorici, pratici e stoici delle dinamiche carismatiche dell'economia e della società civile. Gli autori devono inviare un abstract esteso della presentazione (circa 800 parole) in formato pdf ai seguenti indirizzi e-mail: This email address is being protected from spambots. You need JavaScript enabled to view it. e This email address is being protected from spambots. You need JavaScript enabled to view it..
Scadenze per gli studiosi partecipanti:
Presentazione entro il: 30 gennaio 2010
Notifica di accettazione entro il: 28 febbraio 2010
Presentazione dell'abstract di presentazione entro il: 15 aprile 2010
Comitato scientifico:
Helen Alford (University of St. Thomas - Rome)
Leonardo Becchetti (University of Tor Vergata, Rome)
Luigino Bruni (University of Milano - Bicocca)
Bennie Callebaut (University of St. Thomas - Rome)
Piero Coda (University of Sophia - Loppiano)
Mauro Magatti (Catholic University - Milan)
Pier Luigi Porta (Milano-Bicocca)
Barbara Sena (University of St. Thomas - Rome)
Alessandra Smerilli (University Auxilium - Rome)
Amy Uelmen (Fordham University, New York)
Stefano Zamagni (University of Bologna and Johns Hopkins University)