An international group of scholars, is organizing a research workshop during the First International Assembly of EoC:
EoC Research Workshop
Economy of Communion: Towards a new economic culture. Recent Research.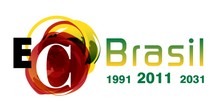 May 25-28, 2011,
Mariapolis Ginetta
Vargem Grande Paulista, Brazil
call for papers (Electronic Submission Deadline: April 4, 2011)
The workshop is devoted to improving our theoretical and empirical understanding of EoC and the economic implications of the vision of the world on which it rests. Papers are welcome, both by senior and junior researchers, on topics that approach either the practice of EoC or its underlying culture from the perspective of Economics, Business Management, or related disciplines.
Scientific Committee:
Alejandra Marinovic, Business School, Universidad Adolfo Ibáñez, Chile (coordinator); Giuseppe Argiolas, Faculty of Economics, Universitá degli Studi di Cagliari, and Istituto Universitario Sophia, Italy; Benedetto Gui, School of Economics and Business, Universitá degli Studi di Padova, Italy; André Habisch, School of Management, Catholic University of Eichstätt-Ingolstadt, Germany

Procedures for contributions, submission guidelines and deadlines:
If you wish to have a paper/research considered for presentation at the Workshop, please submit a detailed two-page abstract electronically, in Word or PDF format. Each proposal should be sent as an e-mail attachment to Alejandra Marinovic, at the E-mail address:This email address is being protected from spambots. You need JavaScript enabled to view it.(deadline: March 21, 2011)
The organizing committee will select papers from the submitted proposals. Its choices will be announced not later than April 11, 2011.
The completed version of the paper to be circulated during the Workshop, must be submitted by May 13, 2011.
For more information about this call for papers, please contact Alejandra Marinovic at This email address is being protected from spambots. You need JavaScript enabled to view it.