Parallelamente alla Prima Assemblea Internazionale di Economia di Comunione, un gruppo internazionale di studiosi organizza un workshop di ricerca dal titolo:
EoC Research Workshop
Economy of Communion: Towards a new economic culture. Recent Research.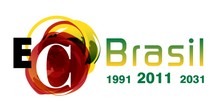 25-28 maggio 2011,
Mariapoli Ginetta
Vargem Grande Paulista, Brasile
call for papers (termine per la presentazione elettronica : 4 Aprile 2011)
Il workshop è dedicato a migliorare la nostra comprensione teorica ed empirica di EdC e le implicazioni economiche della visione del mondo su cui si basa. Sono benvenuti contributi proposti da ricercatori sia senior che junior, su temi che affrontino o la prassi dell'EdC o la cultura economica su cui essa poggia, con i linguaggi della scienza economica, delle scienze aziendali o di discipline collegate.
Comitato Scientifico:
Alejandra Marinovic, Business School, Università Adolfo Ibáñez, Cile (coordinatore); Giuseppe Argiolas, Facoltà of Economia, Universitá degli Studi di Cagliari, e Istituto Universitario Sophia, Italia; Benedetto Gui, Facoltà di Economia, Universitá degli Studi di Padova, Italia; André Habisch, School of Management, Università Cattolica of Eichstätt-Ingolstadt, Germania
Modalità di presentazione degli abstracts e scadenze:

Gli studiosi interessati sono pregati di inviare via mail un riassunto di due pagine, in Word o PDF. Ogni proposta andrà inviata come allegato ad una mail indirizzata a Alejandra Marinovic, all'indirizzo:This email address is being protected from spambots. You need JavaScript enabled to view it.(termine: 21 Marzo 2011)
Il comitato scientifico valuterà i papers fra le proposte presentate. Le scelte effettuate saranno rese note non oltre l' 11 Aprile 2011.
Il testo che verrà messo a disposizione dei partecipanti al workshop dovrà essere presentato entro il 13 Maggio 2011.
Per avere maggiori informazioni su questo call for papers, contattare Alejandra Marinovic e-mail: This email address is being protected from spambots. You need JavaScript enabled to view it.