On May 21, 2010, in Vasto, a convention becomes the chance for communion among the various entrepreneurial realities of the territory
Going beyond the crisis: a question of relationships
By Stefania Nardelli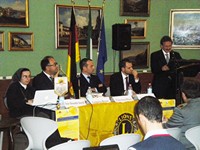 On May 21, a convention-debate was held in Vasto, titled, "A Civil and Humanistic Society for Economic and Social Development". Invited guests included Vincenzo Bassi, Luigino Bruni and Sr. Alessandra Smerilli. What has generated the current economic crisis if not - in an extreme way - a crisis of rapports, of relationships that have led individuals to isolate themselves and lose interest towards projects which are useful to the community and to its development? This progressive isolation is why speculation and easy earning (and not only in work, business and the family) have become the objectives of many social and economic workers.
Sr. Alessandra Smerilli´s presentation raised some interesting questions for reflection under this lens. Knowing that we are living a moment of crisis, and without crying for ourselves, we can understand where lies the opportunity of this situation. To better represent the current situation, she presented a fairytale, Pinocchio (in it´s original version). She considered the part of the story where the wolf incited the Pinocchio, transformed into a little donkey, into wanting easy earnings, and he therefore lead him into the City of Simple Simons... and we all know how the story ends. She remembered when Luigino Bruni, at the first signs of the crisis, was already saying in his conferences, "remember that from this point onwards, the crisis will not be an exception but the rule if we don´t change something at the foundation."
In his presentation, Luigino Bruni gave us a way to identify some concrete contributions for getting over the crisis. For example, he asked us if spending is the cure or the disease. Certainly, up until now, unlimited spending has not brought about the solution to the problem, and perhaps its the case to invert the tendency. Consumption ought to facilitate one´s relationship with others. We must get used to "collective consumption", not an individual one.
Banks, whose responsibility has become that of beingspeculators, must return to being non-profit, that is, return to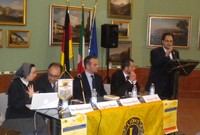 serving those high social goals for which they began, as it is unjust to turn a profit on others´savings.
The entrepreneur, rather than speculating in the search for his own profit, must rediscover his vocation as innovator, defined as he who has a "project" and who risks his life for such a project... and why not, he can also rediscover hisrelationship with "things" through his own manual ability. Therefore, for the entrepreneur, moments of crisis can become chances to give life to those innovations which, as stated, can become a trampoline for social improvements.
Finally, politics should commit itself to bringing about common projects, not private ones - project that favor exchange and social relationships.
At the conclusion of the meeting, it seemed clear that we cannot get out of this crisis if not together, and moments like this convention allow us to become aware of this reality, to find concrete solutions together. They are a chance to compare notes over the entrepreneurial fabric of the city.
We´re aware that we are facing an unexpected change, and not only in the area of finance and economy, but especially a change in culture. And during this passage, the night is easier to see than the dawn which should surely arrive.
But a first step to going towards that dawn emerged among the presentations, and it consists in caring for and deepening all social rapports - unusual for an economic convention in which one might expect a description of the complex crisis and a spotting of boring economic terminology.