Announced during the day meeting dedicated to Chiara Lubich and to the Economy of Communion at the Catholic University of Piacenza
A prize for graduate theses on the EoC
By Tiziana Nicastro
Published on cittanuova.it on 29/05/2010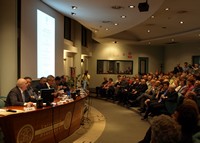 Romano Ruffini was a public employee and remained so until his retirement. Then, in 1995, having ended his previous job, Ruffini became an entrepreneur, placing his knowledge and capabilities at the service of a cooperative that works in the information and data transmission sector. His experience is one among the businesses that adhere to the Economy of Communion Project (EoC), launched by Chiara Lubich in Brazil in 1991.
Almost 20 years later, that which was first an intuition arisen from life has by now become a matter of study in university halls. Economists and researchers, even more so in this period of crisis, question themselves on the synergies between gratuitousness, poverty and economic behavior.
Last May 25th, the Sacred Heart Catholic University, Piacenza campus, held a day meeting dedicated to the study of this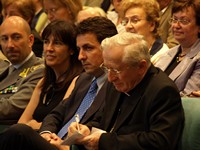 economic praxis. This is nothing new as the university had already conferred an honorary degree in economy to Chiara Lubich in 1999. Eleven years ago, Professor Vito Moramarco, Dean of the Economics Department, explained the reason for such a recognition, "With the Economy of Communion, we move to involving the poor in the productive environment, making them recipients of the profits earned, and where possible, oweres of the business through shared ownership." It is a new approach that puts employees and managers on the same level, both being responsible and active builders of the business.
In those years at Piacenza, some students had finished their academic careers with theses on different aspects of the EoC, and today the university wants to encourage youth to make Chiara Lubich´s thought and that of the Economy of Communion their own. This is why, as part of the May 25th meeting, a competition was launched which will award two monetary prizes to undergraduate theses that focus on this innovative proposal in economy.
To summarize the long affective and effective journey between Chiara Lubich, the Focolare Movement and the Catholic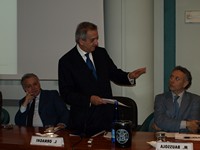 University, the Rector himself, Lorenzo Ornaghi, wanted to highlight how much the path forged by the EoC has restored dignity to men and women, "humanizing the economy and transforming it from within businesses and their main actors." How can this be done? Where can we begin? We´re dealing with an attempt to use, or reverse, those current guiding principles of the economic system where everything is based on profit.
"We need to understand," said Professor Stefano Zamagni, of the University of Bologna, "that a business is first of all a place of formation, just as is the family and the school. It is urgent to bring the principle of love into business, because it is the place where people spend nearly two-thirds of their working day. Therefore, it is important to make businesses places where harmony exists, to make the economic sphere a sphere enriched with interpersonal relationships."
The next step of the EoC will be to plan the economic order of cities, starting from gratuitousness and solidarity. Some towns in Italy have already requested proposals. Piacenza is also trying to see how put it into practice in its own territory. There is much energy to be invested, but the happiness of its own citizens is at play.