A Day of Study dedicated to Chiara Lubich on the anniversary of the conferral of an Honorary Degree in Economy to her by the University of Piacenza
The Economy of Communion. "Gratuitousness, Poverty, Happiness: from social behavior to economic relationships"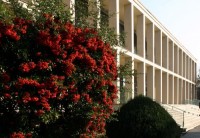 May 25, 2010, 9.15
Congress Center
Catholic University 
via Emilia Parmense, 84
29122 Piacenza
In the multi-form and varied composition of institutions, inspirations and choices that guided the life of Chiara Lubich and nourished her charism, the Economy of Communion represents a moment of profound synthesis and great prophetic content. 
How can we not again take up - in the context of the crisis that has radically hit financial and economic systems, the balance of businesses, income expectations of families, prospects for youth entering the work force - the topics announced by Chiara Luibch to reread them and weigh their actuality and value? In this light, Sacred Heart Catholic University and the Faculty of Economy of Piacenza have promoted this study appointment. 
The day will begin at 9:15 with the celebration of Holy Mass in the University Chapel, to presided by His Emminence, Cardinal Ennio Antonelli, President of the Pontifical Council for the Family. 
At 10:30, in Piana Hall, an introduction will be given by the Dean, Prof. Ornaghi, followed by a presentation by Stefano Zamagni. 
At 11.00, a Round Table on the Economy of Communion will be moderated by Prof. Vito Moramarco. Presenters include: Piero Coda, Luigino Bruni, Eva Gullo, Paolo Maroncelli.
At 11.45 A Presentation of two degrees (three-year and magistrate) given to theses that addressed and deepened topics linked to the Economy of Communion. 
In the afternoon, from 14.30 to 17.00, in Piana Hall of the Congress Center, there will a presentation on the EoC with contributions and life experiences. 
How to arrive to the Congress Center