A January 8 interview in Taranto with Luigino Bruni, the author of the Dictionary of Civil Economy
There´s need of people who do business "out of passion"
Written by Maria Silvestrini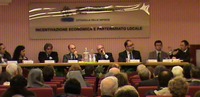 Last January 8, with a numerous crowd of attentive readers in the Resta della Cittadella hall of Taranto, Luigino Bruni gave a presentation seminar for his book, the Dictionary of Civil Economy. He was kind enough to let us interview him about the new frontiers in economy.
The research project on civil economy is young, but it has its roots in early economic studies of Medieval Tuscany and in philosophers that stood out and characterized 17th century Naples. The referral to a civil dimension which sees groups of people who put themselves together to reach common goals is ancient, and it is not necessarily a strictly political dimension.
Beginning with this assumption, civil economy becomes the platform for concrete daily action - in family, in the city, in factories - and whose relevance can be assessed not only through the economic development of a community but also through the quality of that very community.
If we reflect on the market economy´s historical journey, beginning with classics like Smith, Schumpeter, Weber, and up until the crisis which as invested advanced countries especially in the last decade, we must admit that the traditional model - in which the market produces wealth, the state distributes it and charities pick up the pieces - is a model which no longer works.
"We must imagine a civil economy which can create work, that can create added values," said Luigino Bruni. "There´s need of more initiative, more social entrepreneurs, people who are passionate about doing business, for an ideal, for a project. Classic capitalism based only on profit does not explain the current crisis, and from this is learning that it´s time to change the tire. This evening, we propose an economy that arises from passion, from the desire to do projects, to build the future. It´s an economy that does not erase anything from the past but rather refocuses work and the business on that model that has been left exclusively to the game of the free market."
The idea is that the current laissez-faire model has separated functions from meanings, making people believe that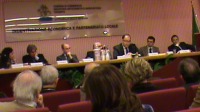 infinite opportunities to make choices can resolve our aspiration to happiness. But in a world where money buys everything and becomes everything, the person discovers that he needs something else. Esteem, health, years of life, gift...there are many elements that create emptiness, a lack of sense in today´s society. By recovering an economy that looks at man in his entirety, as a person, and recovers the meaning of relationships and gratuitousness, we´ve found one way to affirm that economics - normally considered an arid science weighed down by mathematical diagrams and statistics - can recover a soul and a dimension dedicated to community service.
What do you think about a market that is evolving more towards solidarity?
"The signs don´t point in this direction," explains the presentor, "but my impression is that either the market becomes a place of networks and relationships of good living or capitalism cannot go ahead. The environment is the first topic that speaks of a different history, and in a few years we´ll realize that even society cannot sustain itself in the longterm, because there are serious repercussions when we think about solitude and marginalization. Therefore, either we put ourselves together at the grassroots level, in a horizontal way, in solidarity and subsidiarity, or capitalism will cause a type of social desertification. In the long-run, this change (towards solidarity) appears more as a necessity to work towards more than an omen for the future."
Within this panorama, the Dictionary of Civil Economy places itself as a simple and agile instrument, full of ideas, with more than 100 entries that illuminate people and works. Students, families, workers, and intellectuals can quickly find answers to some key topics. The Dictionary is not a trendly seasonal book. The cultural project behind it makes it a lasting work. It´s an investment, similar to that of an encyclopedia, which endures beyond the fashion of the times.
The message is clear: the maximization of wealth and the market are no longer sufficient to assure development. The economy needs to recover the sense of community and take on the responsibility of complex needs expressed by it, not only now but also in the future.