They met in Gussago  (Brescia) on September 19-20.
From Brescia to Novara, from Mantova to Varese: the EOC entrepreneurs meet

From September 19-20, 2009, the entrepreneurs committed to the EOC project in the provinces of Lombardy and of Novara and Verbania, Italy, made an appointment in Gussago (Brescia), hosted in a large 17th century manor, located in the greed and hilly territory of Franciacorta. It was the chance to meet again after a long time. Between Saturday afternoon and Sunday lunch, a total of thirty entrepreneurs participated. Two days of dialogue - intense.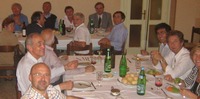 On Saturday, there was a chance to get to know one another better, especially through the sharing of experiences, as is also mentioned in the "Guidelines for Running an EOC Business". On Sunday, there were two moments for dialogue. The first was between the participants and Benedetto Gui, and this helped to widen horizons on the global dimension of the project. The second was with Paolo Maroncelli and Cesare Pastore (Administrative Delegate and Councilor of EDC S.P.A.), which opened the door to talking about the various aspects that both link and "polarize" the businesses with the Polo Lionello Bonfante in Loppiano.
What emerged was that this is truly the moment for a mature choice to adhering to the EOC project. It´s a choice that comes with renewed impetus after the initial enthusiasm.  Among the themes addressed, we´ll cite one: the contrast that can sometimes show itself between the "call to Evangelical poverty" that even entrepreneurs can feel, and the need - to survive against the competition - to produce, and therefore to actively promote purchases, goods of high "value" and therefore high price. How can these two very different aspects be put together? It´s not easy to give an answer.
From the many interventions on this topic, a new scenario came forth: one in which new entrepreneurial ideas can truly open new markets that make it possible to respond to more important needs (to make a new economy, there is also definitely need for a new consumer culture). Yet, it was also clear that looking towards the immediate horizon, it´s neccessary to live in this "contradiction", basing business activity on correct management methods in all areas.

Other meetings that bring together the provinces are to follow and will be alternated by more local ones. One goals is to perhaps begin collaborative relationships between the businesses (for example, obtaining better conditions from banks or insurance companies) or to come together to project new initiatives, and sharing (before everything else) ideas and availability to "do" something. In order to know each business and it´s businesses structures, the way of working, etc., the idea came back to "visit" each other´s businesses. The proposal is to do this once a month.
Finally, we want to point out a contact person for anyone interested in knowing more about the EOC project (especially entrepreneurs), and as other more local meetings will be taking place in the provinces of Lombardy and of Novara and Verbania.
For information, contact Andrea Penazzi: This email address is being protected from spambots. You need JavaScript enabled to view it..