With Luigino Bruni, we report the conclusions of the 2010 EoC Convention in Italy and the challenges of the near future
One city is not enough
By Antonella Ferrucci

Luigino Bruni, last September 19, the 2010 EoC Convention at Lionello Business Park concluded with the wish that the Expo and Convention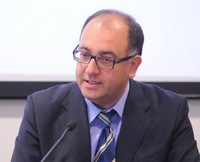 can become an annual appointment for Italy, held at the business park.

Yes, there is no good reason that it should not become an annual meeting, and an always more beautiful one, with more exposition space and new ideas. This year's convention was like an experiment. That said, the world is big... and, if compared with the world, Italy is small. What makes the EoC strong is that it immediately has a "world" perspective. Chiara Lubich said, "One city is not enough". The ideal that arose from this project is that all may be one, ALL.
We want to take care of everything, to do everything. The philosopher Giuseppe Maria Zanghi says that "science arises from a death". You see a flower, and you want to know everything about that flower. You want to be a biologist, a chemist, and even a poet... then what do you do? "You die to everything" and become a "chemist", and that will be your act of love towards that flower, otherwise you become a contemplative of macro systems and are not good for anything. We have the world in front of us, but then we choose to serve the EoC in Italy and this arises from a death, from losing the desire to do everything. 
Some people ask when the day will come where there are not only "entrepreneurs of communion" but also "employees of communion", true "businesses of communion"?
I am convinced that we are only at the beginning of the EoC project, that the EoC has just begun. If we believe that the EoC arises from a charism, charisms have long timeframes, century-long timeframes. The more complex an organism is, the longer its initial phase is. Just think of how difficult the infancy of a human is compared to a cat, for example. The EoC is a complex project...I am certain that the youth will soon start different kinds of businesses that don't follow the classical form of entrepreneur-employee and will neither be similar to cooperatives... they will be "businesses of the Economy of Communion", having their own juridical structures, new ones. That is what happened with cooperatives.  First, the theory came about from utopian thinkers and, then, after 50 years, the juridical form which didn't exist before was developed. Within another 15, 20 years - this part depends on us - our juridical form of an EoC business will come about. It will be something new. As we believe that the EoC arises from a charism, whoever is living in this reality day after day does not realize what he's doing because the charism is explained over time. One understands it by living it. We cannot think about bringing about the EoC as if we had a business plan in front of us, where there is a project, and then we put it into practice. Within the history of the EoC, we're in the first half-hour of a 24-hour day. We need to have the patience of those who do complicated things and who never really had control over what they are doing. This, too, is poverty.
In everyday life, how can we keep ourselves from being overcome by fatigue and from losing enthusiasm?
It's true that we sometimes lose enthusiasm... enthusiasm and joy are very fatiguing virtues. They need to be defended and built, because they are gifts of the Spirit. "As adults", we need to have "Monday morning" enthusiasm when we're alone, in our office, and when no one sees us.  We're faithful to the project in an adult way, and we give life to concrete actions. This is because everyday life is not just a break between two conventions. We need - thanks to the youth, as Chiara said, they are our Ideal - we need to launch a new phase of creativity, of true enthusiasm for the EoC in Italy, and when we meet again in a year at the business park, we need find ourselves having grown, having given life to new projects.