A 
«
Training project in culture and brotherhood, assistance and support for small businesses and socio-cultural projects
». 
From the diary of Carolina Carbonell.
published on Focolare.org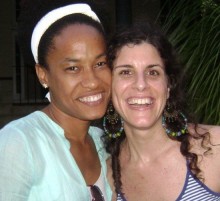 When John Paul II visited the island in 1988 he stated: "Let Cuba open to the world and the world open to Cuba." Nowadays many Cubans would add: "Let Cuba open to Cuba," almost echoing the words of José Martí: "To be great, it is enough to strive for greatness" [our translation].
For some time a project has been underway for creating businesses in several locations in Cuba, according to the model of a Sustainable Social Economy (ESS) and the Economy of Communion (EoC). This project is called "Training in the culture of brotherhood, assistance and support for small businesses and socio-cultural projects."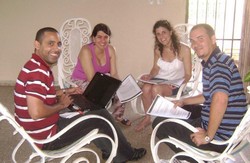 Patricia Silva and Marisol Cuadrado from Argentina have put together a manual that is adapted to a Cuban context, intended for trainers and business owners. Marisol and Carolina Carbonell from the EoC Commission of Argentina of Polo Solidaridad travelled to Cuba last July.
"They were beautiful days, intense and beautiful. You don't come back the same as when you left," Carolina recounts. "Together with Cuban economists, Ernesto and Kike who are passionate about the EoC, we held a series of workshops in Havana, Camaguey and Florida. These last two cities are located in the centre of the country."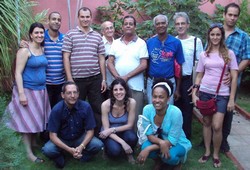 "We thought we would be talking with the business owners about business, but when you understand Cuba you immediately realize that you must begin by taking a few steps back and begin with the dreams and building relationships based on trust. For this reason the workshops always began with a lively self-presentation in pairs. Everyone had a few minutes for getting to know the other, listening and then presenting. The experiences that emerged from this sharing turned out to be quite beautiful, as if everyone had always been accustomed to this kind of communion."
In the work groups on the experiences of the first entrepreneurs of the Economy of Communion, the origins of the EoC were examined, and also how these business owners had decided to take the risk of organizing their businesses according to the principles of the EoC.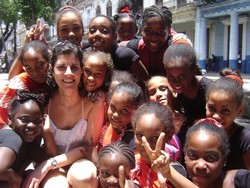 Carolina surprised everyone: "The dynamic of our workshop turned out to be a game: a treasure hunt. Through different stages we helped one another to discover our dreams, talents and the greatest treasure of all, the project for our life. We had a strong experience in Florida with a wonderful group of farmers."
"We certainly uncovered Cuba's best side: its people who are far more beautiful than the splendid beaches that draw so many crowds," Carolina remarked. "We saw that the culture, warmth and generosity of this people have no cost attached, nor limit. It often happens that a business owner risks his own business in order to save a neighbour's. They have our same dreams: freedom, equality, development and the best capital to succeed." "During our stay on this island," she concludes, "we haven't found friends, but brothers and sisters."