A "mythical" episode in the story of Chiara Lubich in the early days of the movement, comes alive again today in an EoC company in Indianapolis (USA).
by John Mundell
Among the Focolare Movement members of the Economy of Communion, there is a famous story from the early days of the movement during World War II in which a poor man needed a pair of shoes, size 42. Someone brought this need to Chiara Lubich, the founder of the Focolare and the Economy of Communion, and she, knowing that Jesus was in the poor person, turned to the Lord in the church of St Clare near to a hospital of the same name, with this prayer: "Give me a pair of shoes size 42 for you in that poor person". Chiara came out of the church, and a lady came up and gave her a parcel. She opened it and it was a pair of shoes size 42.
in Trent, Italy had when they began practicing a communion of goods. They became like the early disciples of Jesus, who it was said of in the Acts of the Apostles, that they were of "one heart and soul, and no one was in need among them."
What should we expect as entrepreneurs of the Economy of Communion? As a result of our relationships with those in need, can our sharing in communion satisfy any needs of our local and worldwide communities? Here is an experience from this week in October 2019.
n Indianapolis, our EoC business regularly shares its profits with several local groups who are in the front lines of fighting poverty and homelessness.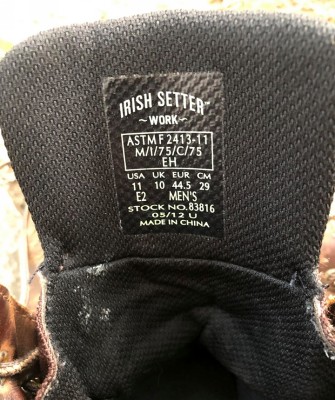 This week, one group, The PourHouse, sent out an urgent request that my wife Julie received. "We are in need of a pair of men's size 44.5 steel-toed work boots for one of our homeless friends who just got a job, but has no shoes." Almost immediately after reading this, Julie sent an email to all of our employees, sharing this need. One of our guys quickly sent back a reply: "I am size 44.5, and I have a used pair because the company just bought me a new pair." This evening, I left his shoes at the doorstep of The PourHouse. - one pair, with steel toes, size 44.5. You can imagine their surprise and delight!
Sometimes we read of great stories, of the early Apostles and wish we had lived back then to witness first hand the dramatic events of those early years - and to live in communities where "no one was in need". At other times, we remember stories of the works of "great saints", and the real miracles that happened during their lives, like Chiara and the size 42 shoe, and dream of what it was like to be with them and to feel the tangible presence of God as unity and mutual love brought about vibrant communities with "one heart and one soul".
And sometimes, during these last 28 years of living day-to-day the ideals of the Economy of Communion, we are allowed to witness first hand our own miracles, brought about by mutual love and reciprocity, and God's Providence - with real people as the protagonists. Size 42 shoes - did it really happen? If you still have doubts, take a look. And tomorrow you may see a homeless man walking down the street with just the right shoes to begin the next phase of his life. As our Muslim friends often say: God is great!