Details

Published: Monday, 17 September 2012 07:07
Written by Isaias Hernando
Hits: 2863
After having lived an experience of strong communion during the 1st EoC International Summer School, there is a strong desire to see one another again next year in Madrid!
From our correspondent Isaias Hernando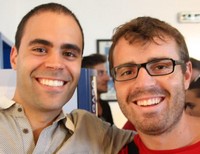 Fado is the best known expression of Portuguese music; it expresses the little (and big) wounds of daily life in a very particular way: through melancholy, and nostalgia. "All this exists; all this is sad; all this is fado" are the words of a well-known fado that is sung at night time in Lisbon restaurants, in the light of a single candle, in a moving silence and unique atmosphere.  The interesting thing is that only Portuguese people seem able to transform wounds in a very singular way, accepting them as part of life, in song, in music, in beauty, passion, and art.  This says much about the personality of this great nation who has much to say and to give to Europe and the world.  For this reason, the program held during the last days of the Summer School foresaw some 'outings' in and around Abrigada: not only to hear the fado, but above all to get to know other important realities.