Details

Published: Monday, 15 October 2018 08:35
Written by Maria Gaglione
Hits: 266
A workshop on responsible consumption amid the shelves of the supermarket. It was the proposal of the Italian youth section of the Economy of Communion for its annual summer LoppianoLab.
di Maria Gaglione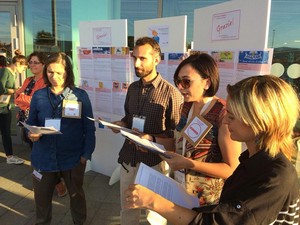 Put the heads of a group of teenagers together having taken part in the recent annual workshop in Loppiano, and one keyword emerges: "participation." In view of this, the Youth Section of the Economy of Communion (EoC) launched on the social network and among their friends a workshop called "Inside the LABel." At the conclusion of the day which the Bonfanti Industrial Park had dedicated to the topics of economy and work, the participants left the meeting hall and the filled cars that were waiting to take them to the nearby Coop Supermarket in the town of Figline. A table was set up at the entrance of the superstore along with ballot boxes. Then, an innovative experiment began that lasted for two hours, a genuine voting campaign. The five candidates were: pasta, coffee, chocolate, canned tuna and oranges.