EoC the firm
Economy and work
Entrepreneurs, workers and business
The businesses which adhere to the Economy of Communion define their own 'business mission' by adopting communion as a fundamental value of one's organization, at every level.
In order for this to happen, the functions and the various business roles are defined with clarity and exercised with a spirit of service and responsibility. The directing style is that of participation. Business objectives are shared and adequately verified in a transparent manner, paying particular attention to the quality of relationships between all subjects involved (stakeholders), particularly the other EoC entrepreneurs, the regional commission, the national and international associations.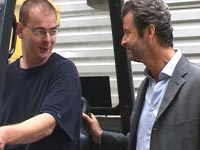 When the business makes profits, entrepreneurs and their partners commit to sharing them in order to destine them towards three objectives, while respecting typical procedures in different types of businesses and the social situations in which they operate, and attribute equal importance to:
a) helping indigent individuals through various initiatives that promote communitarian and productive inclusion;
b) developing the business by empowering it's structure and improving the quality of it's products. Particular attention is dedicated to those initiatives which would favor the formation of new activities and thereby creating new jobs, particularly for disadvantaged people, and eventually to the remuneration of partners;
c) the diffusion of the culture of communion. In the case in which adhesion to the EoC is not yet adhered to by all partners, the commitment to share the profits according to the aims of the project is limited to the sums earned by those who have adhered.