EoC the firm
Relationships with clients, suppliers, financiers, civil society and external subjects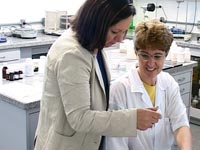 Business members commit with professionalism to build and reinforce good and open relationships with clients, suppliers and the territorial community in which they operate, of which safeguard and betterment are felt to be integral parts of the mission.
The business is carried out in a loyal and civil way with all competitors, suppliers, clients, civil society and public administration, which are felt to be essential partners for the realization of the Common good. Moreover, entrepreneurs and workers of new EoC businesses, promote the spirit and the message of the EoC, presenting their own ideas and experiences when at conventions, seminars, and meetings because they consider the diffusion of this new economic vision to be part of their 'vocation'.
They are not happy to just live the EoC, but desire to let many others know about it, paying special attention to young people, whom they will make welcome during periods of formation or internship.