Details

Written by

Federica Nalli

Hits: 729
The preparatory meeting for the Prophetic Economy international event brought together young people aged eleven to fifteen: we had promised ourselves to let their thoughts emerge. As a result, an astonishing awareness was demonstrated by them.
by Federica Nalli
published in propheticeconomy.org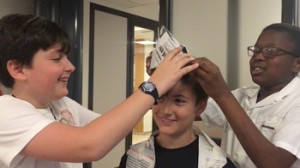 Someone once told me that the important things in life are done before the age of fifteen. At the time I thought he was a fool, but I have changed my mind, thanks to "our" young ones. Often it is easier for us adults to think that they are "just" kids who still have to grow up and find their way. However, we do not realize that it is they themselves who ask us, with their attitudes and the words they manage to say, to make them responsible, to put them in a position to make their voices heard and to do something to assert their vision of the world. They don't want us to wait for them to become adults, because "becoming adults" is often just a way of letting their passions, ideas and great questions that we adults are unable to answer die away, because we have given up; and of letting their vocation and enthusiasm go out to dedicate their lives "to more serious things", to think about how to "taking home the daily bread" instead of dreaming about how to save the world.