Welcome to the official EOC website!
Treaties are flesh and blood
Details

Published: Thursday, 08 March 2018 05:00
Written by Luigino Bruni
Hits: 1295
Luigino Bruni's series of Bible commentaries in Avvenire continues under the title: "Greater Than Guilt", on the Book of Samuel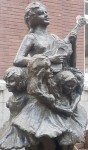 by Luigino Bruni
Summary:  We have arrived at one of the hard and mysterious chapters of Samuel's first book, which however contains messages of life that say the importance of our treaties and wounds. And it helps us to understand that the truth is symphonic.

previous series can be found on the page "biblical series"